Auli
---
History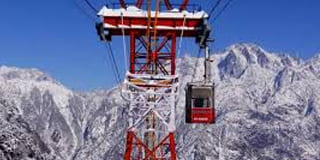 In the 8th century AD, the great Guru Adi Shankaracharya is said to have tread on these fields. The temple built by him at Joshimath still exists. For hundreds of years, the colorful semi-nomadic tribes of the Bhotiyas, of the Mongolian stock, traversed the trails at Auli, locally called Thatauli. Their longhaired yaks, laden with an assortment of goods, assisted them in conducting a flourishing trade with nearby Tibet.

Before Auli was developed as a ski resort, its slopes were the training ground for men of valor and courage-the ski-equipped men of the Indo-Tibetan Border Police Force. Among the awesome, legendary peaks ranged round Auli, the 23,490-feet-high Trishul (literal meaning, the strident of Lord Shiva) was the scene of a unique expedition in 1958. The mountaineers took four days to climb the peak and only 90 minutes to ski down to the base camp.

Tourists Attractions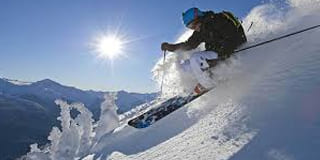 Skiers are naturally provided with clean stretches of 10-20 km of snow-covered mountain slopes. Besides, there is a descent of 500 m from the ridge over a stretch of 3 km. The forests on the slopes also seem to help the skiers by reducing the wind velocity. In the months of February and March, Auli often hosts the National Winter Games. In a planned move, the Government and local authorities have involved the local Garhwali people to explore the slopes that rightfully belong to them.

By eight in the morning, one can see the first of the skiers and other adventure seekers. Until about four o'clock in the evening, when it gets chilly, cold and dark, the skiers make most of the slopes. For the best part of the winter season, Auli is blessed by an unusually large number of sunny days, but there are times when it snows heavily. In the evenings, the activity shifts from the slopes to the bukhari-warmed huts and resorts (bukhari: a quaint, wooden stove). People then generally pass their time listening to folklore and reveling in the local music of Garhwal in the lamp-lit rooms or besides the bonfires.

Auli Ropeway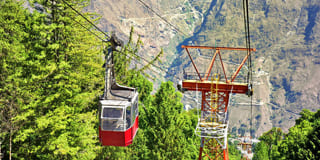 Connecting the hill stations of Joshimath and Auli, Auli Ropeway is one of the tops draws when it comes to the topnotch places to visit in Auli. The highest and the longest ropeway in India after the one at Gulmarg in Jammu and Kashmir, it covers an approximate distance of 4km and presents the traveler with gaping views of the snowy valleys and verdant meadows below. Also called 'Gondola', it travels at a height of 3,010m above sea level.

The Auli Ropeway operates with a ski lift and a chairlift that rest on 10 steel towers. This bi-cable contraption was built in order to present travelers to Auli with a scintillating experience. It ascends gradually to a height of 1,110m. In the skiing season in Auli, it presents exciting views of the skiing competitions that are organized by government's tourism department.

Check out the best Auli Packages to discover and enjoy the alluring charm of this gorgeous hill station!

How To Reach
By Air - The nearest airport is Dehradun, about 298 km away. Rishikesh, about 235 km away, is the nearest railhead.

By Road - Regular road services are available from Delhi, Dehradun, Rishikesh and Hardwar to Joshimath, 16 km away. From Joshimath one can hire jeeps to Auli. One can also trek the five kilometer between Joshimath and Auli. For further information, contact the GMVN office at Rajpur Road, Dehradun or the Uttarakhand tourism offices located all over the country.