Day Rafting Tour Rishikesh
---
BRAHMPURI TO NIM BEACH (09KMS.) 600.00 PER/ PERSON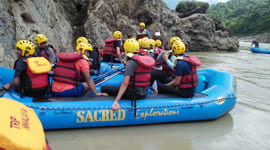 This is grade II rafting stretch and usually takes about 1 hour on the river. The stretch has about 3 rapids - the good rapids we run on this stretch are Jail No Bail (Grade II+), Double trouble (Grade II) and Hilton (Grade II). These are safe to raft with grade II line. It takes about 25 minutes to drive to the starting point and then about 30/ 45 minutes for the preparation, inflating the raft and safety briefing. Once safety briefing is done, we get on the rafts. It is an hour's fun on the river with some good splashes and big hits. We finish our rafting trip just after Nim Beach and from there it is a 5 minute drive back office.

Trip Includes:Transport till Clubhouse. Tea or Soft drinks will be available, Rafting with our best professional river guide and world class equipment.
Who is Eligible: Any one above 14 years can enjoy this trip even you don't have to be swimmer for this trip?
Duration of Trip: 2 hour trip will be full of adventure and fun.


SHIVPURI TO NIM BEACH (15 KMS.) 1000.00 PER/ PERSON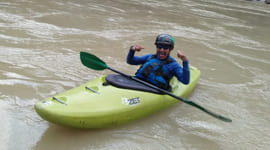 This rafting stretch usually takes about 2 hours to finish. It has about 7 rapids including both small and big ones. Some of the good rapids we run on this stretch are Roller coaster (III+), golf Course (III+), and Club house (III). These rapids are safe to raft though there are some big waves and hydraulics. It takes about 30 minutes to one hour to drive to the starting point and then about 30 minutes for the preparation, inflating rafts and safety briefing. Once safety briefing is done, we get on the rafts. It is 2 hours fun on the river with some good splashes and big hits. We finish our rafting trip at Nim Beach and then from there it is a 5 minutes' drive back to our office.

Trip Includes: Transport till Shivpuri, Tea or Soft drinks will be available, Rafting with our best professional river guide and world class equipment.
Who is Eligible: Any one above 5 years can enjoy this trip even you don't have to be swimmer for this trip?
Duration of Trip: 3 hour trip will be full of adventure and fun.


MARINE DRIVE TO NIM BEACH (24 KMS.) 1500.00 PER/ PERSON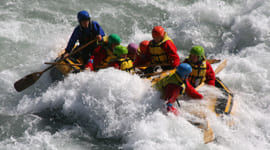 This stretch of water has almost ten grade III and grade III+ rapids which are named according to their type. Like The Three Blind Mice is a grade III rapid called so as the water appears almost calm until you get to three quick and consecutive rapids, each following the other very closely. The other rapids are called Cross Fire (III), Roller Coaster (III+), Golf Course (III+) and Club House (III). The trip begins with a 45 minutes to 1 hr drive to the starting point where an appropriate safety briefing is issued while the rafts and other gears are made ready. The point to take note is that this is a fairly easy stretch even though at times an unexpected hydraulic or big waves might appear which are effortlessly handled by our guides. The rafting down the river in totality takes 3 hrs even though it could take as long as 3-4 hrs in the months of December and January. We finish our rafting trip at Nim beach and then from there is a 5 minutes' drive our office.

Trip Includes: Transport till Marine drive. Rafting with our best professional river guide and world class equipment.
Who is Eligible: Teenager and Adults looking for Ultimate Adventure on river?
Duration of Trip: 4 to 5 hour trip will be full of adventure and fun.


KODIYALA TO NIM BEACH (FULL DAY RAFTING) 2500.00 PER/ PERSON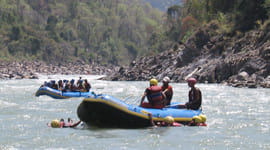 This rafting trip from Kaudiyala (also spelt as Kodiyala) is only offered when the river is running a bit high otherwise it is not possible to run this stretch in one day. This is again grade III, III+ rafting stretch with one grade IV rapid- The Wall, which can be a flipper sometimes which means that the raft may turn upside down throwing us into the water. And regardless of how that sounds it actually is more fun and exciting than dangerous as each raft is not only equipped with able guides and all sorts of safety equipments but each one of you is also wearing a life jacket making it impossible to get hurt. Apart from the 30 minutes' drive to the starting point and time taken to issue safety instructions and gear it takes about 4-5 hours on the river and has about 12 rapids including some small and some big ones again interestingly called Daniel's Dip (III+), The Wall (IV), Three blind mice (III+), Cross Fire (III), Roller Coaster (III+), Golf Course (III+) and Club house (III). It takes about one hour to drive to the starting point and then 30 minutes for the preparation and safety briefing. The absolutely thrilling trip ends just before Laxman Jhulla in Rishikesh from where it is another 5 Minutes' drive back to our Office.

Trip Includes: Transport till Marine drive. Rafting with our best professional river guide and world class equipment.
Who is Eligible: Teenager and Adults looking for Ultimate Adventure on river?
Duration of Trip: Full day trip will be full of adventure and fun.



Note: All our trips are run with safety support. We have the one of the Best Team..