Trip Duration :- 9 Nights 10 Days
Har ki Dun which means Valley of Gods, is situated deep inside Govind Pashu National park in North-Western Uttarakhand. Har ki Dun situated at an elevation of 3566 meters is surrounded by glittering peaks and dense forests. The forests are rich in wild life and are a veritable paradise for bird-watchers and nature lovers. This is good trek for all age groups and the valley is full of flora and fauna. One can spend time with herbs & shrubs for medicinal purpose. Also photography too has great area to snaps for variety of birds & nature. This is a holly place. Also it is a base of Swargarohini ht. 21000 ft. In our old granth (books) it is mentioned that Pandav went to Swarga (Heaven) through this mountain. This is a place where you can find Trees of Bhojpatra flower Bramhakamal.

Har ki dun is graded as an easy to moderate trek. There are various trekking communities and companies which gives you a complete package for the trek, some starts the trek right from Sankri to the har ki peak which accounts for a circuit of around 77 km while some starts from Taluka which is 11 km from sankri leaving a circuit trek of 27 km in one direction. Though the trek generally ends at har ki dun you can also explore Maninda Taal which is a lake around 3 km from campsite at Har ki Dun and Jamdhar Glacier which is around 10 km from cap site.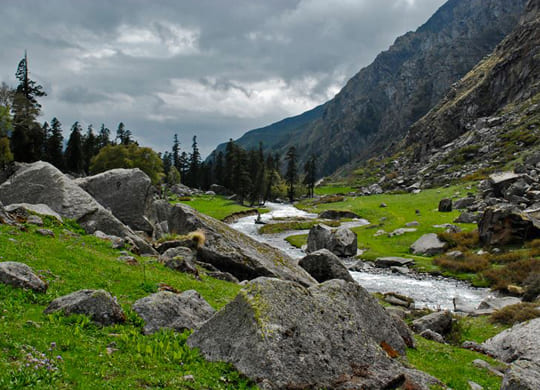 ---
Har Ki Dun Trek Itnery
---
Day 01: Rishikesh to Taluka
After breakfast drive to Taluka, a small hamlet nestled in the laps of nature via Mussoorie, Kempty falls, Purola and Mori. This is starting point of our trek. Dinner and overnight stay in tents.

Day 02: Taluka to Osla
The trail from Taluka village initially descends and then continues gradually on the true left of the valley adjoining the river Rupin. Later the trail winds up the beautiful forest of Chestnut, Walnut and Willows and continues to the village of Gangar. Here cross the side stream and continue to climb to see settlement of picturesque Osla village at a distant on the true right of the valley. Continue to trek to Seema the campsite just opposite to the village of Osla separated by the swift river. Seema is a small tourist hub with shops of limited supplies, a forest rest house and tourist Bunglow. Dinner and overnight stay in tent.

Day 03: Osla to Har-Ki-Dun
After breakfast start to trek har-ki-dun.The trail from Seema initially continues on the true left of the valley, goes past fields followed by crossing a hanging bridge over river Rupin, to the true right of the valley. The trail now ascends, go past through fields and pastures with huts. The coniferous flora on the opposite side of the valley is awesome and much adorable. The trail climbs to the ridge locally named as Kalkatti Dhar, from where the trail traverses to give you awesome view of Har Ki Dun. From here initially the trail climbs gradually and later gets steep in times go past through beautiful meadows to the campsite at Har KI Dun. The campsite is by the small stream, with peaks of Har Ki Dun and Swargarohini towering above. Dinner and overnight stay in the tents. 

Day 04: Har-Ki-Dun
The day is for relaxation and exploration. Having a morning at ease you can explore Morinda lake in the first half of the day. After lunch exploration towards Jaundhar Glacier is adorable. Dinner and overnight stay in the tents.

Day 05: Har-Ki-Dun to Debshu Bugyal Trek
Today we will trek 14 kms to reach Debshu Bughyal. It will take 4-5 hrs at leisure pace as the trail is generally downhill. Dinner and overnight stay in tents.

Day 06: Debshu Bugyal to Ruinsara Tal
Today we start trekking early towards Ruinsara Tal. The Trek from Debsu Bughyal to Ruinsara Tal is through, terraced mountain fields, lush green grassy lands and conifer forests through extremely scenic landscape. The gradient of the trek is moderate and one will be able to complete the trek in 5 - 6 hrs on arrival at the lake set campsite. Dinner and overnight stay in the tents.

Day 07: Ruinsara Tal
The day is for rest/acclimatization/exploration. One can explore the surroundings around the lake. The place is full of photographers delight. Dinner and overnight stay in stay in tents.

Day 08: Ruinsala Tal to Osla Trek
After breakfast start trekking back towards Osla (18 kms). This trek will take about 4-5 hours. Set up a camp by the Supin River. Dinner and overnight stay in tents.

Day 09: Osla to Taluka
After breakfast trek towards Taluka village is equally easy as the previous day. The beauty down the valley is really immaculate and worth it. Dinner adn overnight stay in tent/hotel.

Day 10: Taluka to Rishikesh
Morning after breakfast drive to rishikesh and departure to your next destination.
© 2023 Feel Tourism | All Rights Reserved