Uttarakhand River Rafting Expeditions
Uttarakhand River Rafting Expeditions
We run the river journey totally self-sufficient with all supplies, equipment, food, tents etc., all carried on the rafts along with the guests. It's an ideal way for reaching the most remote and stunning areas that the Indian Himalayas have to offer. We get to set up camps at scenic locations, offer sumptuous meals, relax by campfires and have loads of fun. We also have an opportunity to take short day hikes to explore remote villages, monasteries and learn about new cultures. The simple life, amazing canyons, sound and fragrance of the forests fills ones senses. The fast-paced life of the city seems to be a myth in these surroundings. You get back home calm and refreshed with loads of memories in a short duration. We offer a number of multi-day trips on various rivers which may require a weekend or up to 5 to 8 days on the river. You can choose as per your time schedule.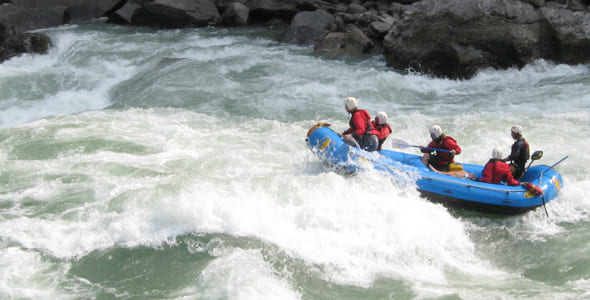 ---
White Water Rafting Expeditions
Alknanda River Rafting Expedition
The Alaknanda River is that the second major tributary of the Ganga besides the Bhagirathi. It drains through the large mountains of Garhwal and has numerous mighty tributaries including the Mandakini, Nandakini and Pindar. A self-contained expedition rafting trip, it provides you the joys of running one among the foremost technical and challenging foam within the Indian Himalayas, that has grade 4 to five rapids with a lot of adventure to supply . The stretch between the Chamoli and Rudraprayag, may be a classic river run where we negotiate over 75 to 80 grade 3 to 4+ rapids, including the grade 5 "Hillary Fall", named after Sir Edmund Hillary's up-stream jet boat expedition called "Ocean to Sky". Only a hand full people have rafted this section. Raft down this dream river run crammed with adrenaline pumping rapids, sandy beaches, and large bonfires which makes this a very unforgettable river journey.
Upper Alaknanda River Rafting Expedition
Uttarakhand is that the origin of the two most vital and non secular river for Hindus that's Ganga river and Yamuna river, the Yamuna is originated at Yamunotri and therefore the Ganges at Gangotri. it's one among the foremost picturesque destinations, covered by high Himalayan peaks, glaciers and forests. Uttarakhand is additionally famous for adventures activities like Trekking, Skiing and River Rafting. it's the heaven for various sorts of adventure activities. We are pleased to supply you our one among the unique adventure package 'Upper Alaknanda River Rafting Expedition'. This tour will offer you the prospect to try to to the rafting on the Alaknanda River and can get the trilling experience while rafting in Rishikesh fight a number of the simplest rapids on the Ganges.
Kali River Rafting Expedition
This is a river expedition like no other as naturalist and river expert Emmanuel 'Theo' Theophilus of Himalayan Ark are going to be joining in. Having lived within the upper reaches of the Kali basin for the past 26 years, Theo knows this River and therefore the inter-connected river in ecosystem intimately and he will share his knowledge and insights with participants. The River, located along the border of India and Nepal, flows through the picturesque Kumaoni landscape. including the soda water and wonderful sandy beaches, this trip promises a wilderness journey of a lifetime. Participants run the river with experienced guides within the day and enjoys the natural great thing about the region within the late afternoon and evening.
Tons River Rafting Expedition
The Tons River offers one among the foremost technical river expeditions in India and has many grade 3, 4 and 5 rapids spaced between stretches of flat water. you'll spend your days on exciting rapids like 'On the Horns of the Tons', 'Tons Squeeze', 'Confluence', and 'Tuni Bazaar', with late afternoons and nights spent relaxing and enjoying the riverside camp. The last stretch of rafting and kayaking will take us through the gorge and convey us to the 'Major Surprise', the most important rapid on this trip. Our river expedition ends at Minus.
This river expedition brings one closer to nature also as gives you a chance to get a replacement side of yourself.
---
River Rafting Expedition in India
Himalayas are inspiration for citizenry since the belief of intellectualism and individualism struck the chord of consciousness. A sportsperson in rafter thus is not any different than an artist, a writer or a geologist in his approach to demystify nuances and wonder of land and water of varied Indian states. To become victorious on the powerful rivers flowing in Indian Subcontinent, individual on raft needs the determination to charge within the downstream current and control to carry his position courageously within the rapids of varied grades varying from I (easiest) to V+ (toughest). it's thus easy to imagine what it takes to start river rafting tour here.

As India offers the simplest white waters for rafting enthusiasts, the journey of foam rafting has become one among the foremost coveted adventure sports. People from various countries across the border come here to taste adventure on the bouncy rapids of Indian waters making the foremost of their river rafting package; locals also are not left behind in trying to match their fervor with the fiery display of the spirit of rivers like Alaknanda, Zanskar, Brahmaputra, Ganges and lots of others. Located in several places like Chamoli (Uttarakhand), Padum (Ladakh), Tuting (Arunachal Pradesh) and Rishikesh (Uttarakhand), every experience is one among its own kinds.

Apart from those highly popular rivers mentioned above, there are many lures for seasoned rafters who are trying to find a change and lesser-known rivers for his or her rafting expeditions in India. Such opportunities rightly present themselves at places. Consider River Yamuna in Chakrata, River Tons in Mori, River Beas in Manali, and lots of other; there's no way a rafter can save himself from transcending to a different realm altogether.
© 2023 Feel Tourism | All Rights Reserved